Let us help you decide on the best boat lift solution for your unique application.
The boat lifts that we sell are the highest quality in the industry! Be sure that you are comparing equivalent products before you let gimmicks like "FREE SHIPPING" influence you into buying a inferior product.
With boat lifts, the old saying "You get what you pay for" applies!
We are proud to welcome a new product from Boat Hoist USA... The BOAT HOIST USA 360 PWC LIFT "Go Here" to see this great little PWC lift!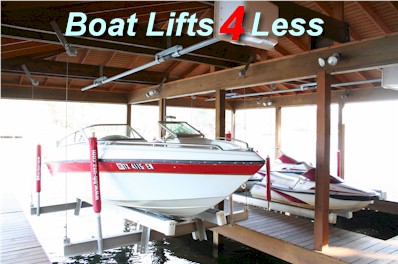 Celebrating 22 years of boat lift
and waterfront living experience!
Now open 9AM until 9PM Mon. thru Fri. and
11AM until 9PM Sat. & Sun. Central time.
We offer some of the Highest Quality 4, 6 and 8 Post Lifts from Boat Hoist USA and Boat Lift US. "Go Here" to learn more!

Our RGC "High Lift" Vertical Boat Lifts with Standard Full Length Pivoting Bunk Boards, Stainless Steel Cables & Hardware sell for less than most "short lift" Cantilever Lifts!
Our Boathouse Lifts and Hoist from Boat Hoist USA can handle boats up to 19,000 lbs.
Call
318-987-3000