Our Salt Water Aluminum mount Pontoon Boat Boathouse Lift kits.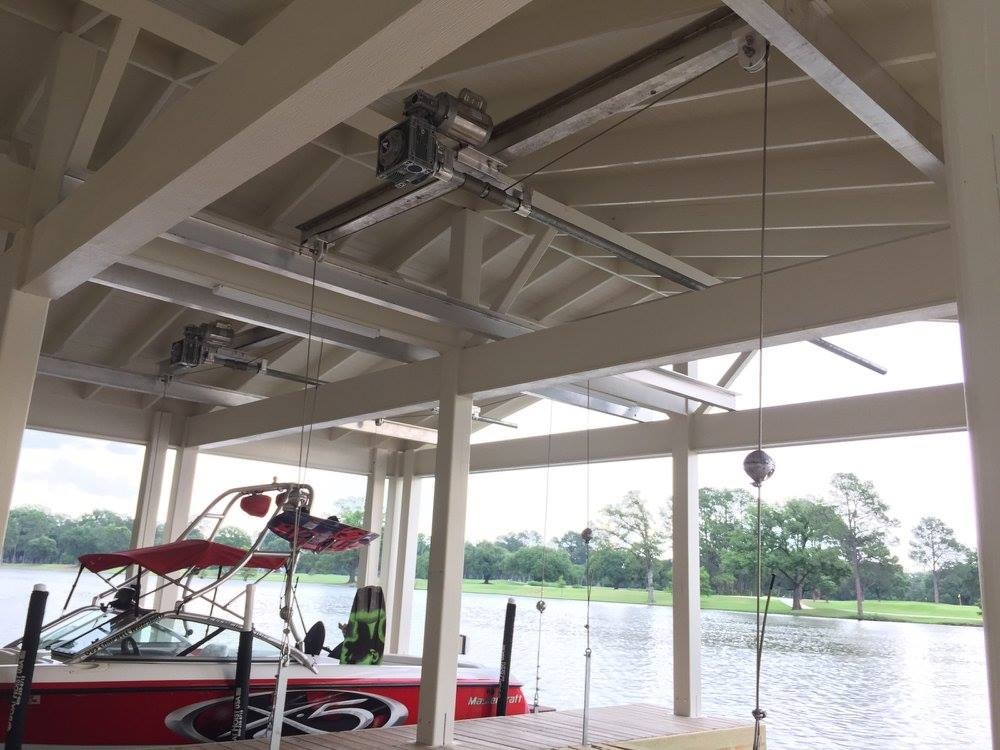 "Go Here" To see our other Boathouse Lifts "Go Here" To see the home Page.

We offer more boathouse lift packages than any other site that you will find!
See our Boathouse Lifts for V-Hull boats Below... Scroll past the information if you want.
SIDE MOUNT OR CENTER MOUNT?
Side mount kits are designed to use the pipe as load bearing and move it over to one side of the structure. This will work for most lighter boats, however it does require special supports so the weight of the boat does not put too much stress on the unit.
Center mount kits are the best way to install a boat hoist. The center mount design makes the unit load free therefore it can easily lift larger boats by keeping the weight of the boat on the 4 pulleys

WHAT SIZE KIT DO I NEED?
When deciding the correct kit for your boat it is always a good idea to buy more lifting capacity than you need. In many cases the boat's weight is only the DRY weight and in some cases it does not include the engine. If your boat weighs 4400 lbs, it would be wise to choose a 6500 lb lift. If you have a cradle, you need to add at least 400 lbs. more to the lift.
"Click on the pictures below for a larger view"
"Go Here for installation instructions" , "Go Here for motor and wiring instructions" and "Go Here for Up-grades and Options"
Call or Text: 318-286-9169 Email: info@BoatLifts4Less.com
Monday thru Friday 9 to 5 Saturday and Sunday 1 to 6 Central Time
Kit includes:

Call or Text: 318-286-9169 Email: info@BoatLifts4Less.com
Monday thru Friday 9 to 5 Saturday and Sunday 1 to 6 Central Time



Call or Text: 318-286-9169 Email: info@BoatLifts4Less.com
Monday thru Friday 9 to 5 Saturday and Sunday 1 to 6 Central Time